_ _ _ _ _ _ _ _ _ _ _ _ _ _ _ _
_ _ _ _ _ _ _ _ _ _ _ _ _ _ _ _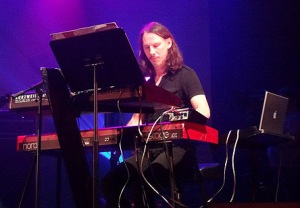 Lalle Larsson is one of the most talented keyboard player in Sweden. He will join Karmakanic and Tangent on their Scandinavian tour in the end of May.
It will be great to see you on stage! You have played on the last four albums, but you did not participated in Wheel of Life or Entering the Spectra?

That's right. Jonas called me first in 2005 when he wanted to play his Karmakanic material live. He needed a keyboardist for the band's first Europe tour. It was so we got to know each other. Karmakanic was initially more of a studio project as I understand it. A few years later, we recorded Who's The Boss In The Factory and it was the start of a thirteen year long collaboration.


How do you think Karmakanic has evolved during the studio albums you participated in?

The latest should be the best and I think that is the case with Karmakanic´s album Dot. Everything from production, composition to games has matured over the years I think. The latest album Dot also has an incredibly good line up.

You've also been touring with The Tangent - have you been involved on their albums as well?

No, but we did a short Europe tour together, a double bill with Karmakanic and Tangent 2014. It will be fun to meet the guys again in May and it's not often I'm playing in Sweden so it's going to be fun.

What can we expect from Karmakanic and The Tangent on tour?

I suppose we play the best song material from each band's catalog and there is usually a little space for improvisation as well.
The audience is guaranteed a nice evening with very positive energy from the stage.

Your latest solo disc - Until Never - released in 2014, have you been playing it live?

No, we never played it live. I think Until Never became a very nice intimate recording, but I actually did not mind playing the material for the audience. It is possible that I will insert any of the songs from the album in a future live set.
My new album will be released later this year and the idea is to try to play it live if I can get musicians and charts etc, it's more improvised music so it's great for a live situation.

What and who have been your musical influences in recent years?

I'm probably influenced by all the music I hear about me, I think.
It's as instructive for me to hear music that I'm not accustomed to hearing music that appeals to me because then I know what to avoid or amplify in my own music.

You would probably be surprised at how quiet it is in our house, I rarely listen to music to be completely honest. When I work in my studio or sit and practice then I get my prone part of sound.

If I want extra inspiration, I'll go back listening to contemporary classical music, such as Henri Dutilleux violin concert with Isaak Stern or anything with John Coltrane, Eric Dolphy, Allan Holdsworth or Michael Brecker. If I'm on tour, it will be a lot of youtube, especially interviews and documentaries can be inspiring.

Läs hela inlägget »
There are many wonderful prog festivals to attend around the world and each is wonderful in its own way but 2DP+1 surely stands out as one of the best you could attend, as a concert-goer or performer. The surroundings are magnificent, the organization is peerless. Bodo Kubatzki took these lovely shots and said:
- It was a great concert in Veruno with Tangekanic! I really like Jonas Reingolds and Andy Tillison with band. They are great musicians and created a really good atmosphere at site.
a glimpse from the concert in Poppodium De Boerderij - Zoetermeer by Danny Focke: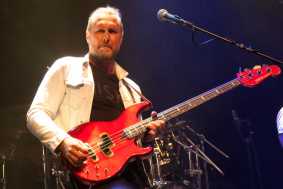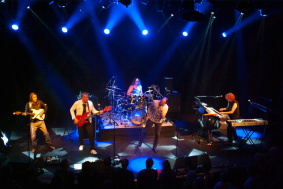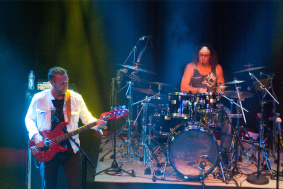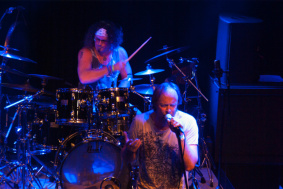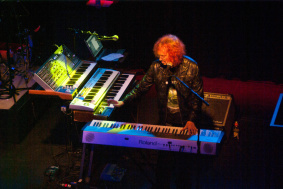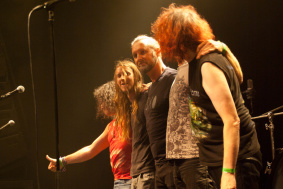 New dates on our eurotour

We can now present two new dates to our tour in Europe:
Sept 6 Oberhausen, Zentrum Altenberg
Sept 7 Verviers, Spirit of 66

Karmakanic and Tangent on tour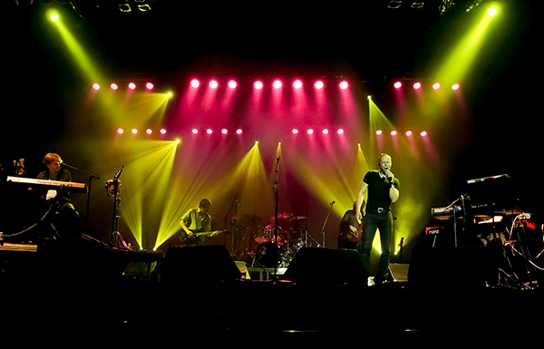 In August will Karmakanic and the Tangent team up for some European tour dates, hitting the road with a six-piece line-up that will perform the music of both bands. Common to both bands is Jonas Reingold whose career with The Flower Kings has been a major contribution to the progressive genre. Karmakanic have released 6 studio albums which Jonas has both composed and produced.
The Tangent led by keyboards player and singer Andy Tillison since 2003 have had a nine album career to date – and have no intention of stopping any time soon.

This year the two groups will tour together for the second time – featuring one stellar six piece line up that will play the music of both bands. This time the lineup will of course feature Andy & Jonas leading their respective bands – and the other musicians will be Luke Machin (Guitar), Marie Eve De Gaultier (Keyboards, Vocals), James Stewart (drums) and Goran Edman (Vocals). The music will be personal choices of the best that both bands have to offer from across the years.