New video from tangekanic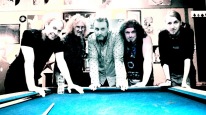 Tangekanic, the collaboration between The Tangent and Karmakanic, have released a live video of the track Steer By The Stars.
The song was originally recorded by Karmakanic, with the performance filmed at the New Jersey Proghouse in October last year.
The video has been released to mark the announcement that Tangekanic will play Musikens Hus in Gothenburg, Sweden, on May 26 and Kometen in Hvidovre, Denmark, on June 2.