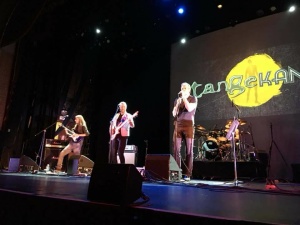 This three-day festival was founded to solve a few positive problems. First, even though a handful of fun Prog gatherings exist around the globe, artists are eager to play in the Northeast United States during the autumn months, where and when not much else in Prog circles takes place. Second, we know that Prog fans are seeking a comfortable, classy venue to see their favorite bands perform. Add in a great host town that's close to a huge airport and regional rail transportation… and that's most of ProgStock's story. Karmakanic and the Tangent had a full set during the festival.
- Wow, I couldn't have asked for a better first gig in the US!! What a crowd, you guys were just amazing!!
ProgStock Festival was a blast, the whole weekend was incredible, hanging out backstage with some of the finest musicians including my guitar hero and good pal Francis!
Thanks to all the people for coming over and saying hi at the meet and greet after the show, great to meet you all, says Luke Machine, guitarist on tour with Karmakanic and the Tangent.


.